I have eventually sorted out my own personal newsletter, just for new kits, freebies etc. Some of my freebies will be newsletter exclusive, so if you want them you will have to sign up (smile) Just look at the top right hand side of my blog, click on the button and sign up. Probably no more than 2 or 3 newsletters a month, and definitely no spam! My first newsletter will go out on 28 Feb, along with this freebie, only those that sign up before then will get it! I used Kim's Colour Challenge Swatch for this, and Humpty will soon be a CU freebie on my blog.


Sign up for my newletter to get this free!
Colour with Caryn has 2 new actions in her store at

Digiscrap Warehouse

.
Lighten it
Pop it Out
And this is what I did !
Caryn has also opened her new store at

Digiridoo Scraps

, so check it out!
KimB Designs has this cute CU pack of flowers new in her shop today
Bloomers 5
Bonnie van Esch Designs has a gorgeous new kit on her blog today, a lot of the elements painted by her.
ONE DAY SALE only!! (or the first 20 customers to purchase Wonderful get it at $2.20! So hurry...
Get it here
Wonderful!
My LO
Bonnie also has some freebies on her blog so hurry on over and grab them!!
And she is having a CT call so if you would like to work with her designs send her an email!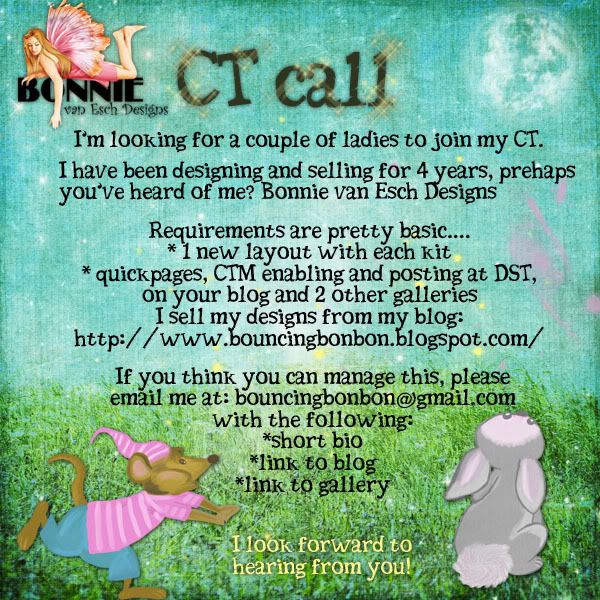 That's all for today, have a great relaxing weekend, and don't forget to sign up for my newsletter!!